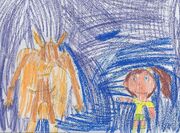 Plot Summary
Edit
Plot Synopsis
Edit
Characters
Edit
Allusions
Edit
Cecily (To Flannery): "Boy! You're lucky we saw you come down!"
The same quote is said in Sonic Adventure in Tails's story when Sonic tells Tails "Boy!  You're lucky I saw you come down!"
Sonic is referring to seeing Tails do a test flight while Cecily is referring to Flannery's urgent arrival!